For the umpteenth time, Cristiano Ronaldo failed to bring his country Portugal to win the World Cup. Portugal must again bite its fingers and go home first after being conquered by the underdog Morocco in the quarter-finals of the 2022 World Cup in Qatar.
Their defeat then becomes headline big in the world. Because, besides Portugal, which again failed to win the world cup, there was Morocco, which set a separate record. Morocco's victory confirmed them as the most successful country on the plains of Africa that made it to the semifinals of the world cup for the first time in history.
World Cup Gait
For Ronaldo, this failure is the fifth time he has failed to bring Portugal world cup champion. Currently, Ronaldo has participated in this grand tournament since the 2006 World Cup in Germany.
At that time, young Ronaldo was still mentored by the Portuguese legend, Luis Figo. in that year, Seleção das Quinas able to advance to the semifinals before being defeated by France through Zidane's penalty. In the third place match they lost to the host Germany.
Meanwhile, at the 2010 World Cup in South Africa, Ronaldo also failed again. This time it was Spain who became their ghost. They are subdued from The Red Fury with a narrow score of 1-0 in the last 16. In this edition, Ronaldo has also been given the mandate to become captain.
World Cup 2014 in Brazil was Ronaldo's nightmare. Because, Selecao das Quinas failed to advance to the round of 16 after only collecting 4 points from a win against Ghana, drew against America and lost badly to Germany.
The 2018 edition in Russia was Ronaldo's turning point, at first he managed to score hattrick against Spain. But unfortunately, their steps stopped in the round of 16 again after losing against Uruguay.
And at the 2022 World Cup, Ronaldo again failed to bring Portugal to victory after only reaching the quarter-finals before being defeated by Morocco, the dark horse, with a narrow score.
Seeing Ronaldo's age at 37 years old, it's hard to imagine him playing again at the 2026 World Cup tomorrow. So with that Ronaldo's highest achievement with Portugal at World Cup only until the semifinals, at the 2006 World Cup Germany.
All Problems
Ronaldo has had a tough season this year. Before the 2022 World Cup rolled around, Ronaldo received a lot of scorn after he conducted an outpouring interview with Piers Morgan.
Together with Morgan, he talked about how he was unfairly treated and betrayed by his team-mates, coaches and his club at the time, Manchester United. Indeed, this season Ronaldo has not played many minutes under Eric ten Hag. Because he was already not included in the coach's tactical scheme.
Many netizens have labeled him post power syndrome. Many people who used to idolize Ronaldo have already been disappointed with him. But many also continue to support Ronaldo's actions.
Winner of five trophies Ballon d'Or finally agreed to jointly terminate his contract with Manchester United. This made him leave for Qatar with a status without a club.
Anti climax
Ronaldo's anticlimax in Portugal also looks unpleasant. Because, in the last two matches of the 2022 World Cup, Fernando Santos did not install him in Portugal's main squad for tactical reasons. However, Santos said in his press conference that he had discussed it with Ronaldo beforehand.
In the match against Morocco, he came on in the 51st minute. However, he couldn't be a hero. Several times the attempted attack was carried out, but it still could not change the scoreboard again until the long whistle sounded to signal the end of the game.
After the game is over, look footage Ronaldo, who walked into the dressing room alone, was followed by photographers who didn't want to go through it. Amid the joy of the Moroccan players, Ronaldo walked while holding back his tears.
sad to see @Christian Ronaldo in Tears…
He won every Trophy 🏆 that was there except the #WorldCup
He will remain a #GOAT𓃵 always … Greatest Of All Time..
Great to see an African Nation #Morocco in the Semis.. but I'm Personally Rooting for #England to win the # WorldCup2022 pic.twitter.com/0N27VQCgzE

— Nikhil Siddhartha (@actor_Nikhil) December 10, 2022
After entering the hallway that led to the locker room, Ronaldo could not hold back his tears while still covering his face which looked very sad. For him, this minor result was very significant. Because the 2022 World Cup is happening the last dance himself.
Ronaldo was also seen covering his face while sobbing and prostrating as if he was very disappointed and sad about what happened to him.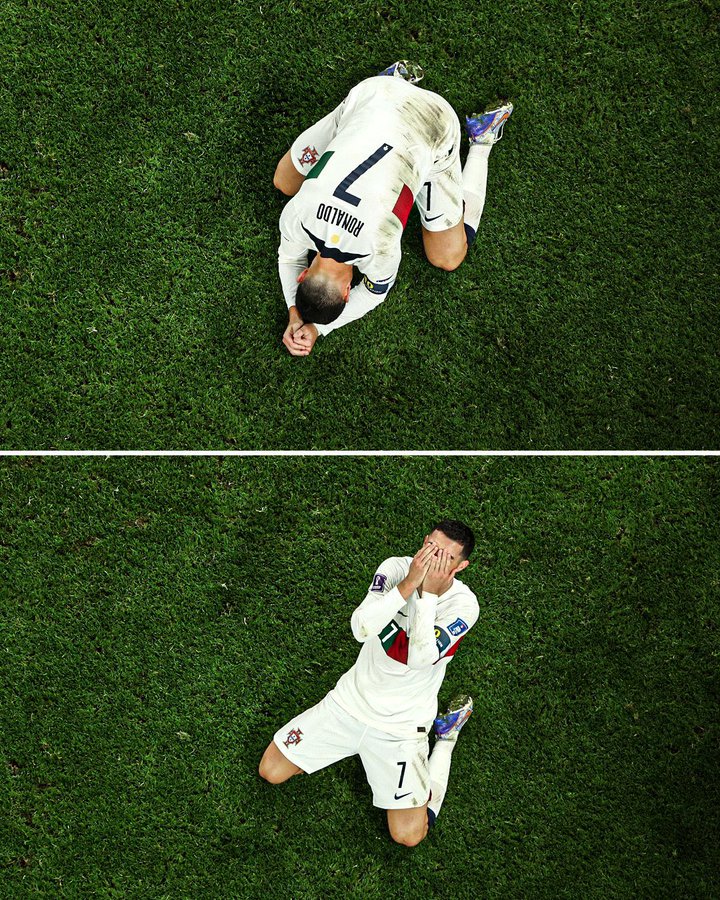 ***
Regardless of Ronaldo's failure and all the problems that came his way, Ronaldo is still a legend on the gridiron. His name will never be forgotten by everyone at any time.
With a high fighting spirit and combined with extraordinary talent, Ronaldo became one of the greatest footballers of all time. He will become a fairy tale and an example for young people who are building their careers in football.
Sometimes, football is unfair and cruel to some people. For Ronaldo, this failure will certainly leave a deep impression and will continue to be a nightmare for him that will probably never be forgotten.
Adieu!