Olivier Giroud is officially the top scorer for the French national team. He set this record when he scored a goal against Poland in the continued match for the 2022 World Cup. He managed to surpass Thiery Henry's goal score with a total of 53 goals in 118 matches with Blues lessons.
However, this score is actually quite surprising for some people, and even for himself. Because Giroud's career has not been smooth and smooth since he was young. He even just played at the highest competition level in the 2010-11 season when he was 23 years old and had just debuted with The Blues in the same year too.
Giroud's Little Life
Giroud was born in Chambery, Southeastern France 36 years ago. He started liking football when he was 6 years old. It was Giroud's brother who made him love football, Romain Giroud who is 10 years older than him.
However, it was his older brother who made him feel afraid of failure with football if it was pursued as a profession. This happened because his older brother at that time decided to stop playing football.
His brother briefly attended the Auxerre academy and played for the 15 and 17 year old groups. However, he decided to stop being a footballer even before stepping on the professional level. After deciding to quit, Romain continued his education and became a nutritionist.
Thanks to lots of motivation and advice, little Giroud finally decided to continue his football career. The first club he strengthened was the Olympique Club de Froges, a club originating from his hometown village, Froges, near Grenoble.
Together with the Olympique Club de Froges, he spent 6 years studying there before finally moving to the professional club Grenoble Foot 38 at the age of 13.
Professional Career
After entering the Grenoble academy, Giroud then got his first professional debut in 2006 when he was 19 playing in the second tier of the French League. Together with Grenoble he made 26 appearances with 2 goals as reported provides.
Although he was loaned to Istres for a season, he was later sold to Tours FC. With Tours, he scored 38 goals in 69 appearances in all competitions. Together with the second division club, Giroud was also the top scorer in Ligue 2 with 21 goals in his last season, 2009-10.
Becoming the top scorer of the competition made Giroud's name shine a little. This was proven when he accepted a proposal from Montpellier, one of the teams in France's top division. It only took two seasons for Giroud to present the Ligue 1 trophy to Montpellier in the 2011-12 season while also making himself the top scorer with 21 goals.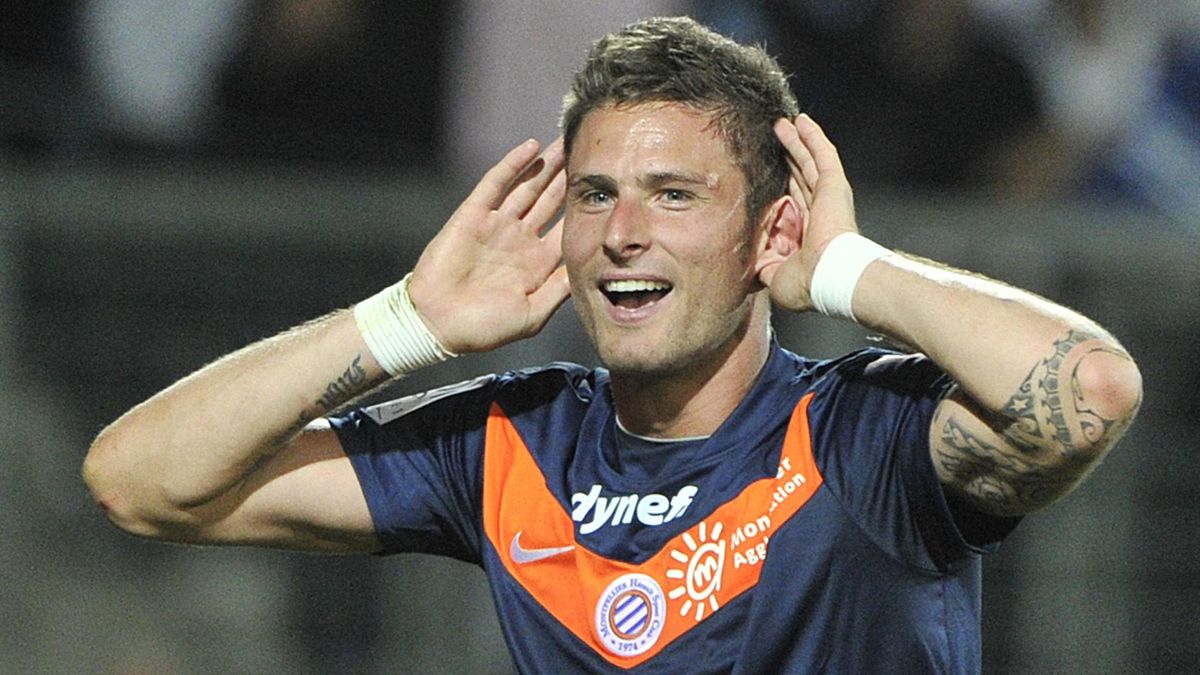 This includes one of the big English clubs, namely Arsenal, attracted to use his services. Being with Arsenal for 6 years was enough for him to present 3 FA Cup trophies and 3 Community Shield trophies.
Furthermore, he moved across to strengthen Chelsea and contributed several trophies such as 1 FA Cup, 1 European League and 1 Champions League and became the top scorer in the 2018-19 European League when he won as well.
Currently, Giroud plays for Italian giant AC Milan. Together with Milan, he contributed to the Scudetto in his first season. In addition, the owner of number 9 in Milan managed to break the curse of number 9 Milan, which is said to have been the number 9 user after Filippo Inzaghi's departure. flop. In fact, he managed to remove the curse and is now the new idol of the San Siro public at the age of 36 years.
National Team Career
Thanks to his stunning performances with Montpellier, he finally got a call to strengthen the French national team, which at that time was coached by Laurent Blanc. Finally he got caps his first on the gorgeous date 11/11/11 against America at the age of 25.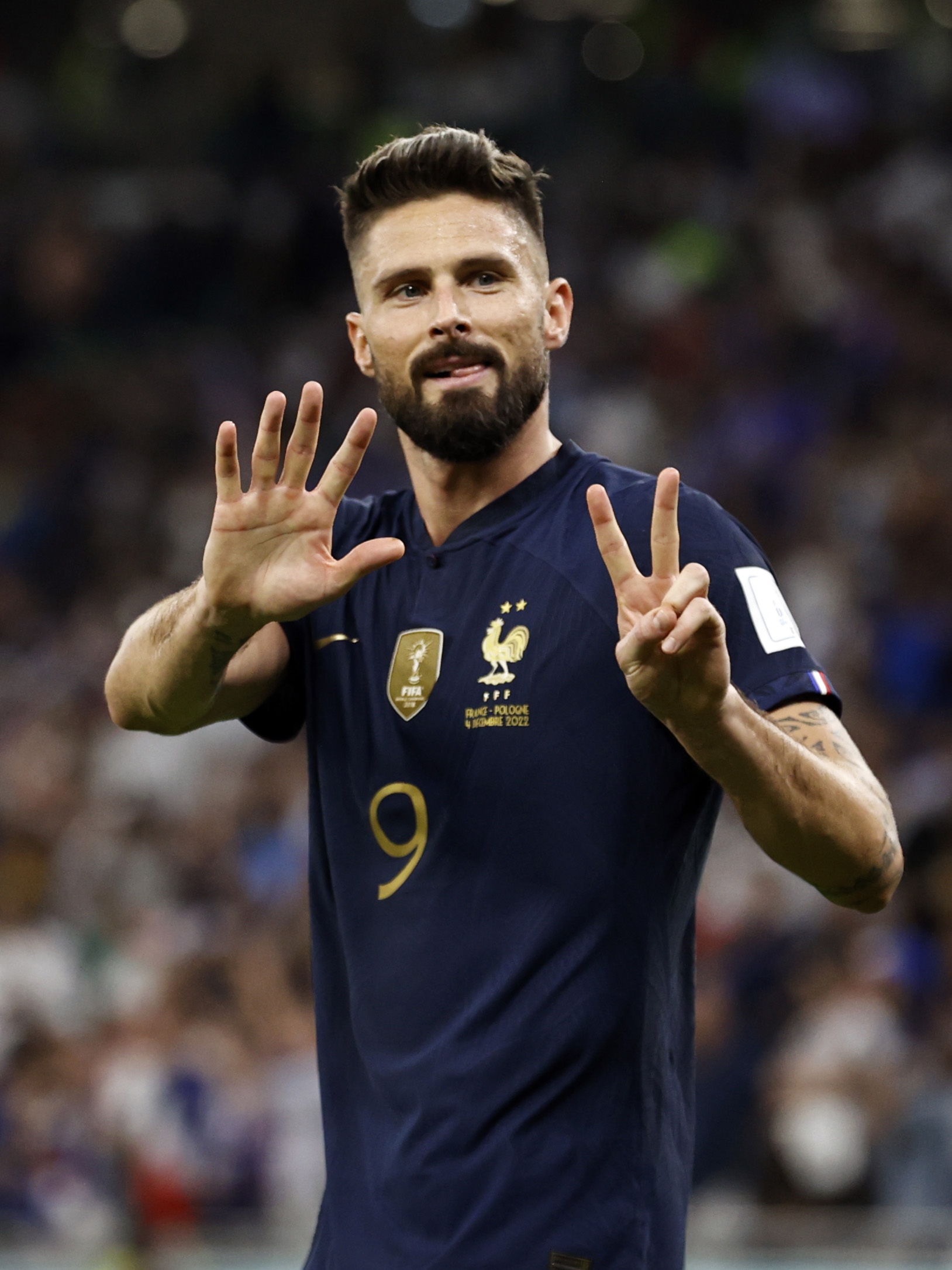 Meanwhile, his first goal came when he was installed from the first minute against Germany in a friendly match. He scored one goal for France's 2-1 victory over their opponent, Germany.
Maybe at that time he never thought about adding to the number of goals for him Blues lessons. However, now he has even become someone who can make history in France by becoming France's all-time leading scorer with 53 goals from 118 appearances. He surpassed his senior, Henry with 51 goals from 126 matches.
Uniquely, Giroud's goal to become France's top scorer occurred at the world's biggest tournament, the 2022 World Cup in Qatar. Giroud still has the chance to add to his coffers of goals at the 2022 World Cup and for France. He will always be ready to play when the coach and the team need him.
🇫🇷 Les Bleus' record scorer

🔝 What a moment. What a story. Congratulations @_Olivier Giroud_!@French team | #FIFAWorldCup

- FIFA World Cup (@FIFAWorldCup) December 4, 2022
***
Giroud may now be an inspiration to many. He is not as talented as Henry, he has not tasted international matches since he was under 20 years old like Mbappe. However, with his belief and hard work and never stopping fighting and never giving up, he can become a person on the same level as legends like Reymond Kopa, Zinedine Zidane, Michel Platini, Thierry Henry.
At 21 years old Giroud was playing in the THIRD tier of French football and went on to win:

World Cup
Champions League
Europa League
Ligue 1
Ligue 1 top scorers
Ligue 2 top scorers
4 FA Cups
Puskas Award
Serie A

What's an unreal underdog story. Started from the bottom…👏🇫🇷 pic.twitter.com/ZDxgjsWbgX

- Italian Football TV (@IFTVofficial) December 9, 2022
Keep dreaming and believe in a dream that is balanced with all the hard, tireless efforts and keep fighting. Because, effort will not betray results and every effort will surely arrive at the right time.
Adieu!