Gender equality has always been embraced in football. This one sport is indeed a prima donna among men compared to women. Starting from players, supporters, match officials to officials who sit in the parent organization, it is dominated by men.
This creates the perception that sepakbola is a masculine sport. These factors then lead to gender bias in football. However, if you look at it more broadly, football should not only belong to men but women also have the right to own football too.
When talking about women's football, of course we are not so foreign to it. Because, there have been many world-level championships to the domestic level. FIFA as a world football organization continues to strive for various ways so that football is no longer gender biased.
For example by holding World Cup The first woman in 1991 which still exists today. Not to mention the continental level championship was the same. Now, at club level, many already have women's football teams. There has even been competition between women's clubs both at international and domestic levels.
However, talking about football is not only about the players who are the main actors but also the judges on the field, namely referee. The 2022 World Cup has recorded a good record, namely fielding the first female referee to officiate a match in the biggest tournament.
History of Women Referees
Actually, the involvement of female referees in football has been going on for a long time. A researcher named Petra Tabarelli, said that the first female referee to officiate a men's football match was Edith Klinger from Austria, who was active from 1935-1938.
But not so for FIFA. In 2018, they even mentioned that the first woman to lead men's football was Drahşan Arda from Turkey. He was active in the world of football refereeing in 1968 when he officiated a match in Turkey. In total, he has been a referee for almost 30 years in Turkey and Germany.
Year after year shows good progress for female referees. Especially when FIFA held the Women's World Cup in 1991, at that time FIFA appointed Ingrid Jonsson from Sweden along with 5 other assistants to lead the biggest women's football tournament.
Several years ago, finally there was the first female referee to get a FIFI license, she was named Sonia Denoncourt from Canada. Since then, more and more female referees have been accredited as FIFA referees.
In the 2000s, many famous female referees emerged. Call it Nicole Petignat from Switzerland whose ability does not need to be doubted. He led qualifying for the European Cup between 2003 and 2009.
Then there is Bibiana Steinhaus from Germany who became the first female referee to officiate a German Bundesliga match. At the international level she has led the 2017 Women's Champion's League final, the 2011 Women's World Cup final and the 2012 London Olympics final.
With this wealth of experience, it's no wonder that she was named the world's best female referee in the 2010-2020 decade based on an assessment from the International Federation of Football History and Statistics (IFFHS).
Apart from that, there are many women referees who contain history. There is Kateryna Monzul from Ukraine with her two assistants, Maryna Striletska and Svitlana Grushko leading the qualifying matches for the 2022 World Cup. There is also Stephanie Frappart from France, in fact she has just broken a phenomenal record at World Cup 2022.
World Cup Women Referee
World Cup in Qatar became a historic and historical moment for gender equality in football, especially in the field of referees, referees. On World Cup this time, FIFA appointed at least three main referees out of a total of 36 for the 2022 World Cup. They are Stephanie Frappart from France, Yoshimi Yamashita from Japan and Salima Mukasanga from Rwanda.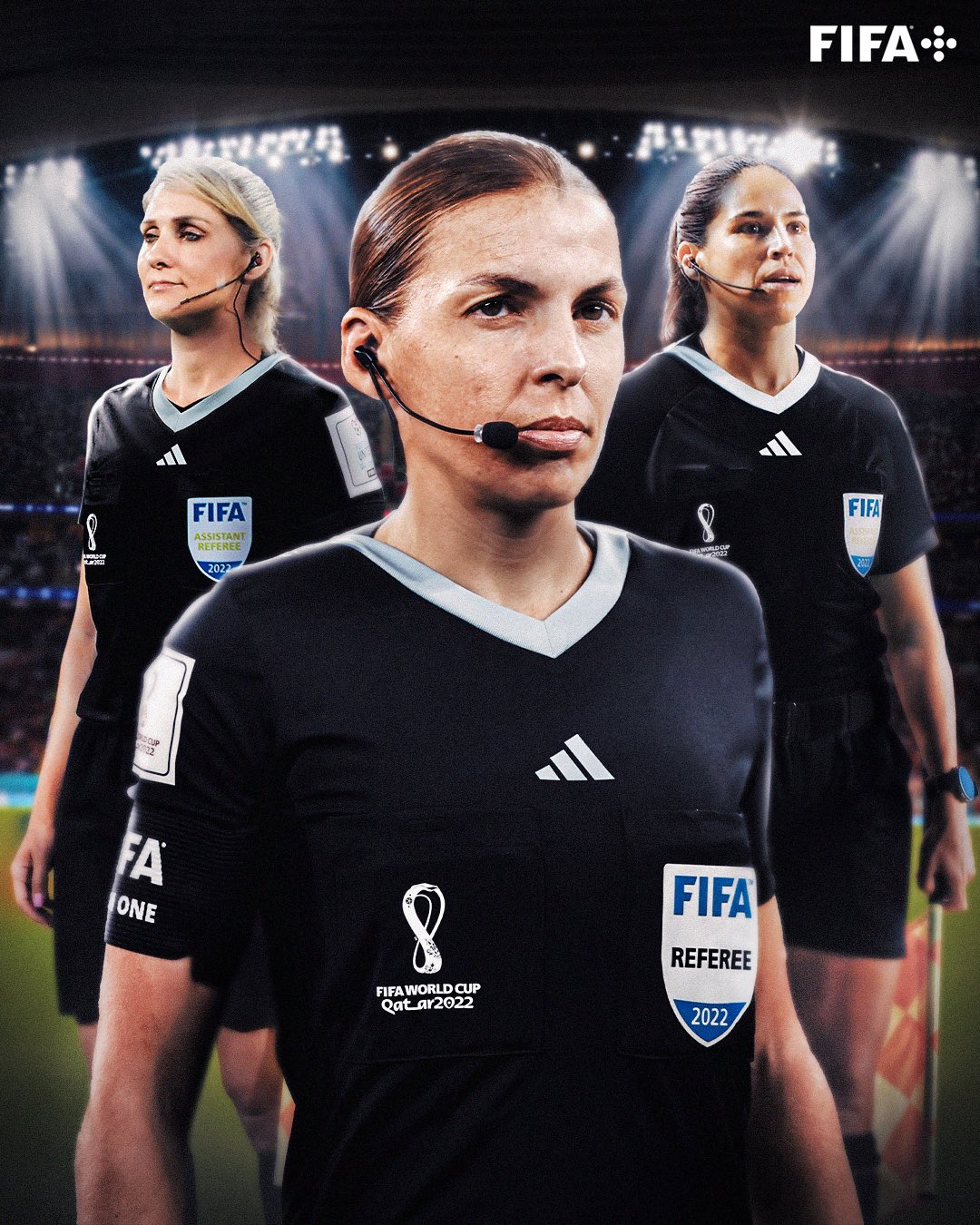 Pierluigi Collina, president of the FIFA refereeing committee, said that the appointment of the three female referees was not because they were women, but because they were FIFA referees.
Apart from the three of them, there are also three assistant referees out of a total of 69 assistants. They are Neuza Back from Brazil, Karen Díaz Medina from Mexico and Kathryn Nesbitt from America. The six of them will become history for world football, because they will take part in the biggest tournament in the world.
The three main referees are no strangers to men's football, they have been in men's football for a long time. Yamashita from Japan has led the Japanese League, the Asian Champions League to Tokyo Olympics. As for Mukasanga, she became the first woman to officiate in a match at the Africa Cup of Nations last January.
Frappart became the most experienced referee of the two colleagues. He has led qualifying World Cup, European Champion's League, French Cup to refereeing the Women's World Cup final in 2019.
Exactly December 1, 2022, the match between Costa Rica and Germany will be a historic match for women's football. Because, for the first time a woman referee officiates a match at the world cup. No half-hearted, the three referees above became the judge in the match. Frappart was the main referee while Yamashita and Mukasanga were the line judges.
Stephanie Frappart, Neuza Back and Karen Diaz made history at #Qatar2022 👏 pic.twitter.com/Fk5I4odyhp

- FIFA World Cup (@FIFAWorldCup) December 2, 2022
***
Football now deserves to be free from gender walls. Because football belongs to everyone. anyone can watch, comment, enjoy it to play it.
Therefore, football has now become French language for citizens of the world who are separated by gender, ethnicity, culture, religion or ideology.
Adieu!