Morocco is one of the countries that is not talked about much and is not favored at all at the Qatar 2022 World Cup. Even just being a dark horse seems difficult. Because they belong to a group that is actually not too heavy. However there still is Croatia and Belgium are the definite favorites in the group, and one of them is Canada.
But apparently, Morocco was transformed into a dark horse team in World Cup 2022. Joined in a not too tough group, Morocco managed to win the group with two wins against Belgium and Morocco and a draw against Croatia.
This makes many people surprised by the achievements of Morocco. How is it possible for the national team, which is full of descendants and immigrants, to advance to the knockout stages of the 2022 World Cup in Qatar? This is one of Morocco's best achievements World Cup after 1986 in Mexico, at that time they made it into the top 16.
However, what makes Morocco unique in the football sector is its immigrants. It was recorded that 16 of the 26 players brought to Qatar were not players born in Morocco. In fact, their coach was not born in Morocco.
Immigrant History
Immigrants to Morocco started in the 1960s to 1970s. At that time it happened because of economic factors in Western Europe. Due to increased economic growth, resulting in a demand for skilled workers, one of which is from Morocco.
This is further supported by the unstable condition of Morocco, the chaotic political situation and the bad economic conditions. Therefore, Moroccans who want to live a more 'safe' life and have a better life and a brighter future choose to live in Europe.
Between 1965 and 1972, the Moroccan population living in Europe increased tenfold. Meanwhile, in 1998, the population also increased again. In fact, they eventually got Citizenship Rights as Member States of the European Union for those living in Belgium, Denmark, France, Italy, the Netherlands and Norway.
Immigrant Football
The Moroccan national team is made up of its citizens who have traveled to European countries as mentioned above. If you look at the squad they brought to the previous tournaments, many of them were decorated with hereditary players.
For example on World Cup 2018, 17 of the 23 players born outside Morocco, meaning only 6 people are local residents. They prefer the land of their parents' birth over their own.
Why is that because they have more chances to always be called upon to strengthen their great-grandfather country than their country of birth. Likewise, at the 2021 African Cup, out of a total of 28 players brought in, 18 players were recorded to have been born outside of Morocco and only 10 players were born in Morocco.
The number of hereditary players who play in Morocco cannot be separated from the hands of the technical director of their federation, namely Mark Wotte, a German citizen who was appointed in 2016. At that time he really wanted to bring back Moroccan citizens from the diaspora to strengthen Morocco. They even do training camps for those living in Spain, Italy, Holland, Germany and France.
However, the result of the large number of citizens of Moroccan descent raises the issue of nationalism. For example, Moroccan players who were born in Dutch get bad treatment.
Some of these players often get ridiculed because there is a racial issue campaign against Moroccans who are a minority in the Netherlands. In fact, they are considered as 'trash' in the Netherlands there.
2022 World Cup
On World Cup 2022, the Moroccan squad is also inseparable from immigrants. There are 16 out of 26 players who were born outside Morocco. Even their coach, Walid Reragui was born in Paris, France before he finally chose Morocco as his country and became team captain to become head coach.
The countries that contributed the most were the Netherlands and Belgium with four players. Players of Dutch descent are Noussair Mazraoui, Sofyan Amrabat, Hakim Ziyech and Zakaria Aboukhlal. Meanwhile, Belgium has Ilias Chair, Selim Amallah, Bilal El Khannouss and Anass Zaroury.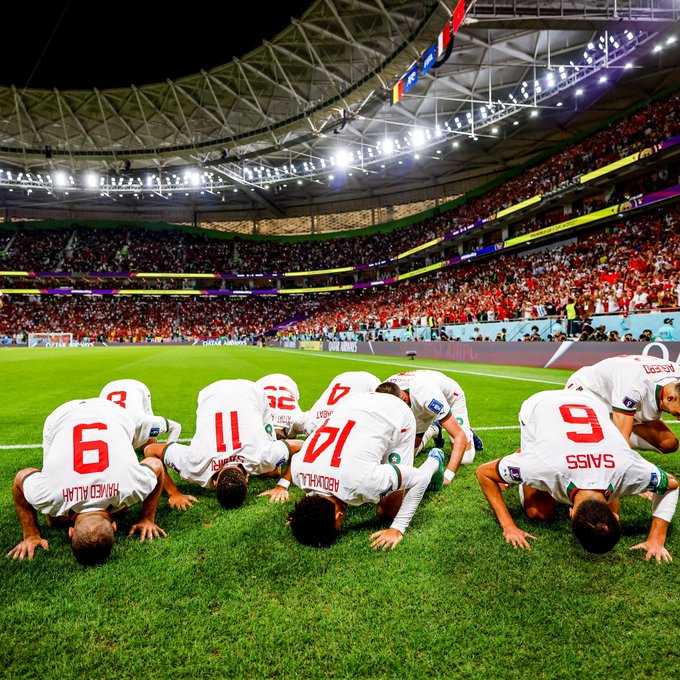 Next is Spain with three players namely Munir Mohand, Achraf Hakimi and Ez Abde. France with two players namely Romain Saïss and Sofiane Boufal. And one each for Canada namely Yassine Bounou, Germany namely Abdelhamid Sabiri and Italy namely Walid Cheddira.
Of the 16 players plus one hereditary coach, that's what allowed Morocco to fight even more World Cup 2022. We just have to wait whether Morocco's lead is only enough to get to the last 16 or they can make their new history by qualifying for the last eight.
Adieu!