For the current millennial generation, it may be foreign to the name Yugoslav. This name several years ago was a name that was feared and even highly respected as a country that produces the best football talent in the world.
Plavi or the blue army, as they were called, had many great talents at that time. Dragan Daji, Branko Zebec to Zvonimir Boban are their star players. Besides being strengthened by talented talents, Plavi also plays beautiful and attractive football. That's what got them the nickname Brazil of Europe.
However, now Yugoslavia has been split into several countries. Croatia, Serbia, Montenegro, Slovenia, Bosnia-Herzegovina, and Macedonia, which are states that were part of Yugoslavia, also have a track record that is not bad on the European and even the world stage. They seem to inherit talent from football masters they were, namely Yugoslavia.
Golden Age
Yugoslavia was founded in 1918 which is a country in the southeast of the European continent. They only played their first international match in 1920. At that time Plavi faced Czechoslovakia at the Antwerp Summer Olympics. At that time they lost big 7-0.
Ten years since their first match, it was in 1930 that Plavi started to show her fangs. At that time the first World Cup was being held in Uruguay. At that time they managed to penetrate into the semifinals of the tournament, although in the end they had to lose to face Uruguay who later became 1930 World Cup winner.
Slowly but surely, the journey of Yugoslav football began to become one of the new powers of football in the world. Even the 1960s was considered the heyday of Plavi.
In 1960, to be precise at the 1960 European Cup, Plavi managed to become a finalist in the tournament. They had to give up the Soviet Union 2-1 which was also a divided country. Even though it was their first European tournament.
Two years later, at the 1962 World Cup to be precise, Plavi was beaten again by Czechoslovakia with a score of 3-1 in the semifinals. Unfortunately, in the fight for third place, they had to lose to the host, Chile.
Meanwhile, at the 1968 European Cup, Plavi again entered the final against Italy. They had held Italy 1-1 in the final match. However, at that time there was no extra time and penalties, so the match was held again two days later. It's a thousand pity, they had to lose to the host Italy with a score of 2-0.
End of the Journey
In 1992, which was the year the 1992 European Cup was held, Plavi, who was supposed to appear in the championship, had to give up his dream. They were disqualified and then replaced by Denmark who placed second in the preliminary group.
At that time in 1992 there was a Balkan war. The war that caused the breakup of Yugoslavia into several states according to their cultural, religious and ethnic characteristics.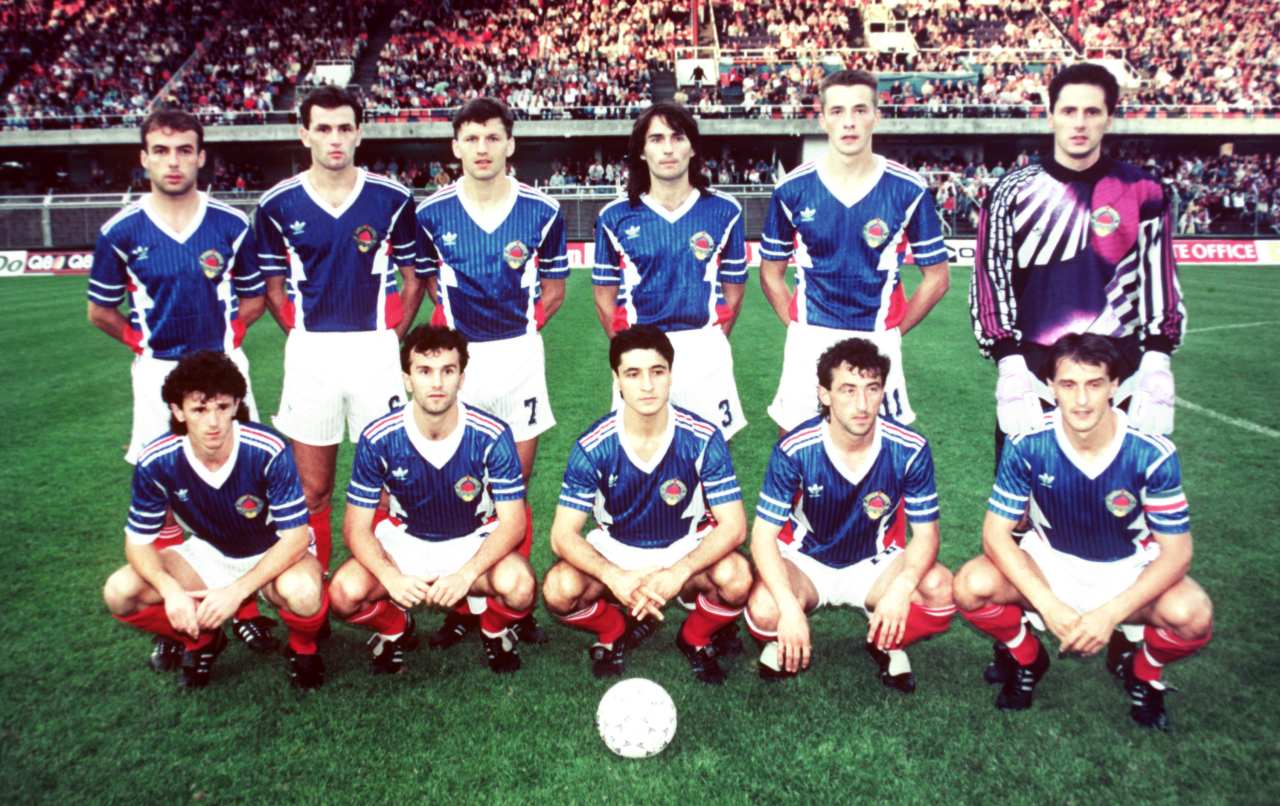 The United Nations banned the participation of Yugoslav sportsmen in international championships. Apart from that, because of the war, the situation there was out of control and was in a bad condition.
Substitute them in Euro 1992, Denmark surprised everyone in the end. Because, they were able to become champions in the tournament even with very minimal preparation, 10 days before the 1992 European Cup.
If the situation in Yugoslavia had not happened to war or had been fine, there was no way Plavi would have won the tournament. Imagine, at that time Plavi was strengthened by Dejan Savićević, Siniša Mihajlović, Davor Šuker to Zvonimir Boban. In addition, in 1991 the Yugoslav club, Red Star Belgadre managed to win the Champions Cup and the Intercontinental Cup.
Yugoslavia finally officially 'disappeared' in 2002. By now they had split into countries such as Serbia, Croatia, Montenegro, Slovenia, Bosnia, North Macedonia and Kosovo.
Ex-Yugoslav progress
Talking about the former most successful country from the breakup of Yugoslavia is of course fixed on Croatia. Because Croatia is the country with the most 'achievement' among other countries such as Serbia, Montenegro, Slovenia, Bosnia, North Macedonia and Kosovo.
Croatia surprisingly managed to become runner-up in World Cup 2018 before finally being defeated by France in the final round. Of course, this achievement is a blessing from their ancestors first. Because Yugoslavia used to be a very feared country in Europe and even the world.
Therefore, it is no longer surprising if later there will be a former Yugoslav fractional country that will shake the world like Croatia in World Cup 2018. Because they have talented DNA from their ancestors in Yugoslavia.
If we suppose that Yugoslavia still exists and is even playing in World Cup This 2022, then this is the best Yugoslav 2022 line-up that will be brought to Qatar.
Adieu!