In recent times, of course, we are very familiar with the German national team or famous players with German nationality. Even many clubs in Germany have become big teams in European competition. There are also many players launched from German clubs.
In fact, even young players to get high flying hours choose to take part in the Bundesliga rather than in England, Spain or Italy. This is because they can get sufficient coaching for young players from clubs there who tend to rely more on coaching young players.
Of course we are no strangers to how Haaland was empowered at Dortmund until he matured and only then joined Manchester City. Or now there is Jude Bellingham, who at a young age has already carried the Dortmund team. Going further, there is Kevin de Bruyne who was 'thrown away' by Chelsea and then honed by Wolfsburg before finally becoming a star player at Manchester City.
Of course things like that don't happen suddenly. There are reasons and reasons why Germany can be very friendly towards coaching young players and maturing players. This started when the European Cup in 2000.
German failure
Der Panzer had their heyday in the 1990s. At that time, Germany became world champion in 1990, was a European Cup finalist in 1992 and won in 1996. Germany was a finalist at the 1982 World Cup and 1986.
At that time Der Panzer using a type of game that relies on physical strength, endurance and discipline. This style is often referred to as staying power. You don't need to be able to play, the important thing is to win. It was a bit pragmatic then.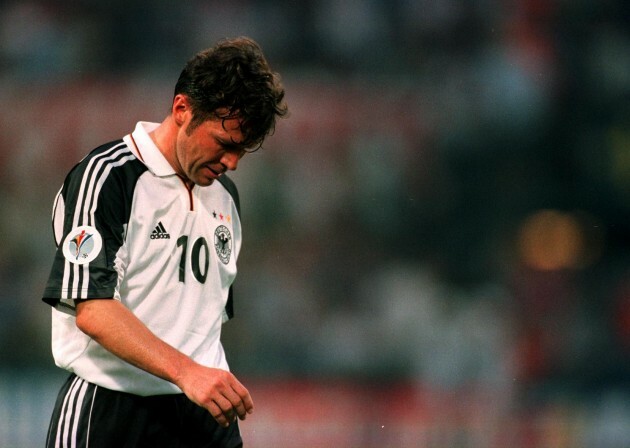 However, everything changed when the 2000 European Cup. Der Panzer only get 1 point in the group phase and become the caretaker in the group. It knocked them out. They also failed at the 2002 World Cup and only reached the group stages of Euro 2004.
This made the DFB (Germany's PSSI) make a breakthrough and revolutionize German football. They appointed Juergen Klinsmann and Joachim Loew as head coach and assistants.
Young Player Development
In Klinsmann's hands, he reformed by making a blueprint by linking the national team with the league. Because a good national team comes from a good league too.
The first thing to do is nursery players at club level. Every club in divisions 1 and 2 of the German league is required to build an academy for coaching young players using predetermined standards. This is to facilitate young players to develop even better.
The second thing to do is change the identity and philosophy of play. Previously, Germany used staying power with strength and endurance. So this time the DFB held a workshop to determine the philosophy of play.
In the workshop, they were asked to describe three things. First, what games do they want. Second, what kind of play do they want the whole world to see. And third, what kind of game do they want the Germans to see.
From the workshop materials, Klinsmann then developed a curriculum with new schemes and tactics. Then a new Germany was born with the current style of play. Play fast and proactive attack.
Off the field, the DFB emphasizes club management and competition. The club must be healthy by getting big revenue. In addition, there are also rules that still apply to club ownership with 50+1, no individual may own a club because that right belongs to the supporters so that the control of the club can also be controlled by the supporters themselves. Even if there were only clubs that had been owned for more than 20 years before 1999.
The revolution finally bore fruit in the following years. German clubs are starting to show their fangs in European competitions such as Bayern Munich, Dortmund, Leipzig and most recently Frankfurt.
It's the same at the national team level. The success of this revolution resulted in Der Panzer being successful world champion at the 2014 World Cup in Brazil. Even then Der Panzer completely humiliated Brazil with a very, very crushing score of 7-1 in front of thousands of Brazilian fans.
Coaching School
The brilliance of Klinsmann and Klopp is also the result of efforts that have been plucked by Germany for a long time. Germany has a coaching school called Hennes-Weisweiler-Akademie or the Germans call it die Academy.

The school has been around for a long time, dating back to 1947, exactly 16 years before the German professional league was founded.
This school is unique and extraordinary, according to FIFA standards, in order to get a UEFA Pro license they must complete a minimum of 240 hours of education. Meanwhile in die Academy, they must study for 815 hours!
Not to mention that after that they are required to do internships at Bundesliga clubs and are required to compile 15 papers related to their football philosophy. Only then will they graduate and be awarded the Fussball-lehrer (Football Teacher) title which is equivalent to the UEFA Pro license.
***
Those are some of the things that Germany planted in the past so they can reap the rewards now. Starting from loading a special coaching school with a unique and interesting method until they finally revolutionized all elements of football in Germany.
Starting from youth coaching, club management, league management, playing philosophy until finally being able to get the best in the national team. Because they are German above all, everything in the world. "Deutschland, Deutschland uber alles".
Adieu!